Amazon Simple Storage Service (Amazon S3) is easy to use object storage, with a simple web service interface to store and retrieve any amount of data from anywhere on the web. For more introductions, please refer to Getting Started with Amazon Simple Storage Service
Add Amazon S3 in iPic
Open iPic's Preferences, clicks Image Host, and add Amazon S3.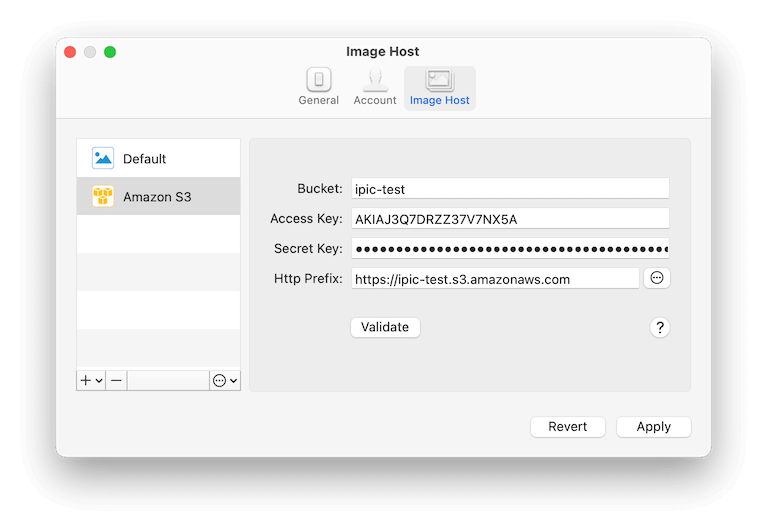 Here is the introductions for all parts:
Bucket

Same with the bucket in Amazon S3

Access Key and Secret Key
Http Prefix
After fill all the parts, clicks the Validate button. If all the information above is correct, you can see the link of Passed in the right.
Beside the basic configuration above, Amazon S3 also supports several advanced ones. Click the 'Advanced' button in right of Http Prefix, you can see the following setting page.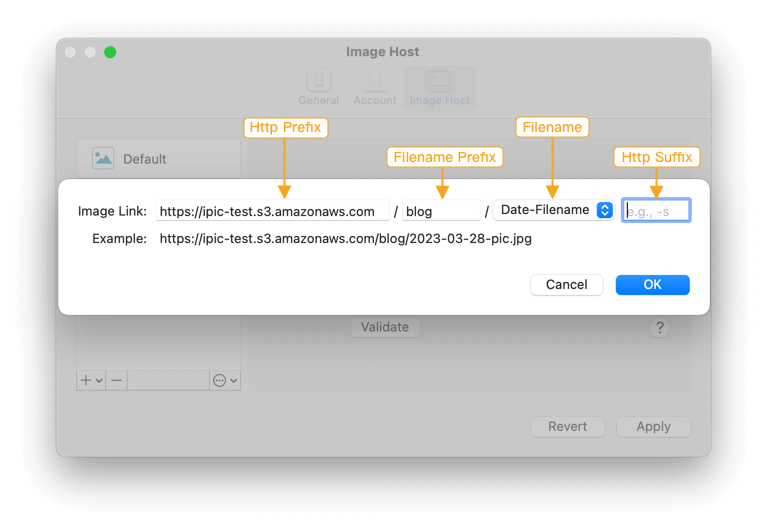 Http Prefix

Same with what ever introduced.

Filename Prefix
Filename

The filename saved in Amazon S3. Now iPic supports these 3 kinds of filename.
Only Filename e.g., pic.jpg
Date-Filename e.g., 2016-06-16-pic.jpg
Random e.g., jk8l1.jpg, could help to shorten the link.

Http Suffix

Any characters in the end of the link.
After all, clicks Apply to save.